So Much to Read
"A man ought to read just as inclination leads him, for what he reads as a task will do him little good."—Samuel Johnson
---
---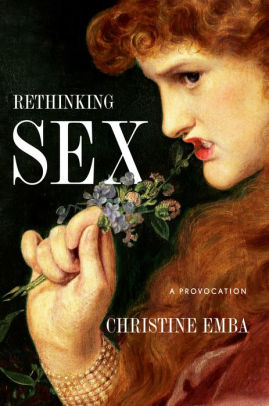 18 July 2022
Rethinking Sex: A Provocation
Christine Emba
It's the age old question: is it limiting to be required to conform to the dominant culture, or is it limiting to be expected to be different? Should women be free to not have to live by men's rules or should they be free to do what men do? It seems evident that strict policing of female sexual behavior is bad, and also that sexual liberation in the form of hookup culture is bad for women in a different way. Today, it seems, that for young people, to the extent that they do it at all, sex means jumping straight into porn-influenced scenarios, detached from dating but at the same time strictly subject to consent. Emba, a young Washington
Post
columnist and an excellent writer, argues that the emphasis on consent (that anything goes as long as both parties have signed on) is ignoring the power of sex itself, to the detriment of women in particular. It seems to me that there's a way for sex to be meaningful without commitment, to be serious without being heavy. As a young woman Emba interviewed said, "Can we not treat each other with love and care for this short period of time? It doesn't mean that every sex act should happen within the confines of a committed relationship. but there should be a care that with bring to our interactions with every human on this earth and
especially
if we're (having sex)...Can we not love each other for a single day?"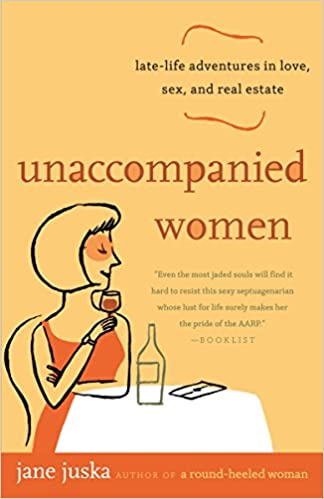 18 July 2022
A Round-Heeled Woman: My Late-Life Adventures in Sex and Romance
and
Unaccompanied Women: Late-Life Adventures in Love, Sex, and Real Estate
Jane Juska
It's all well and good to hold out for something meaningful if you are in your twenties, but what if you're about to turn 67, have been celibate for decades, and just want to have a good time? Juska got quite a bit of attention for her 2003 memoir about the response to the ad she placed in the
New York Review of Books
seeking a Trollope-reading gentleman to hook up with. I checked out the book at the time and I think I was put off by the very beginning—let's just say that Juska is not shy about sharing her appreciation for the male anatomy. I think I figured "Good for her. She had fun" and that there wasn't more to know. But of course it's more complicated than that. Juska was kind of a naïve person, with somewhat questionable judgment at times, and she had several experiences that were not fun at all. But she remains an optimist, expanding her quest in her second book to find not only a steady lover but a foothold in the real estate market. In both cases the odds are stacked against a former teacher who shows up to dates sweaty and disheveled. She's frank, she's funny, she's clear-eyed, she seems like a lot of fun, and I wish I'd read these books before 2017, when she was still in the world with us.
18 July 2022
The Beach Club and other novels
Elin Hilderbrand
It took me two decades to get around to reading Hilderbrand, just in time for her to retire from novel writing. Fortunately, she has about two dozen books for me to work my way through. I've read eight so far and am currently halfway through her first one, which to my surprise is just as complex and accomplished as her later ones. She was a pro right out of the gate. I think the first one I read,
28 Summers
, about a couple who only saw each other on Labor Day weekends, will always be my favorite, but
A Summer Affair
is also exceptional. They are almost all set on Nantucket; Hilderbrand's love for the island lifts off every page like an ocean breeze. The library copy I'm reading now even smells like cocoa butter. Sure, they're romance beach reads, but they're not light—there's always a curveball, a recognition that human motivations are complicated, and a streak of darkness. Nantucket, after all, is briefly an island paradise and then spends most of the year empty and chilly. But summer comes back every year.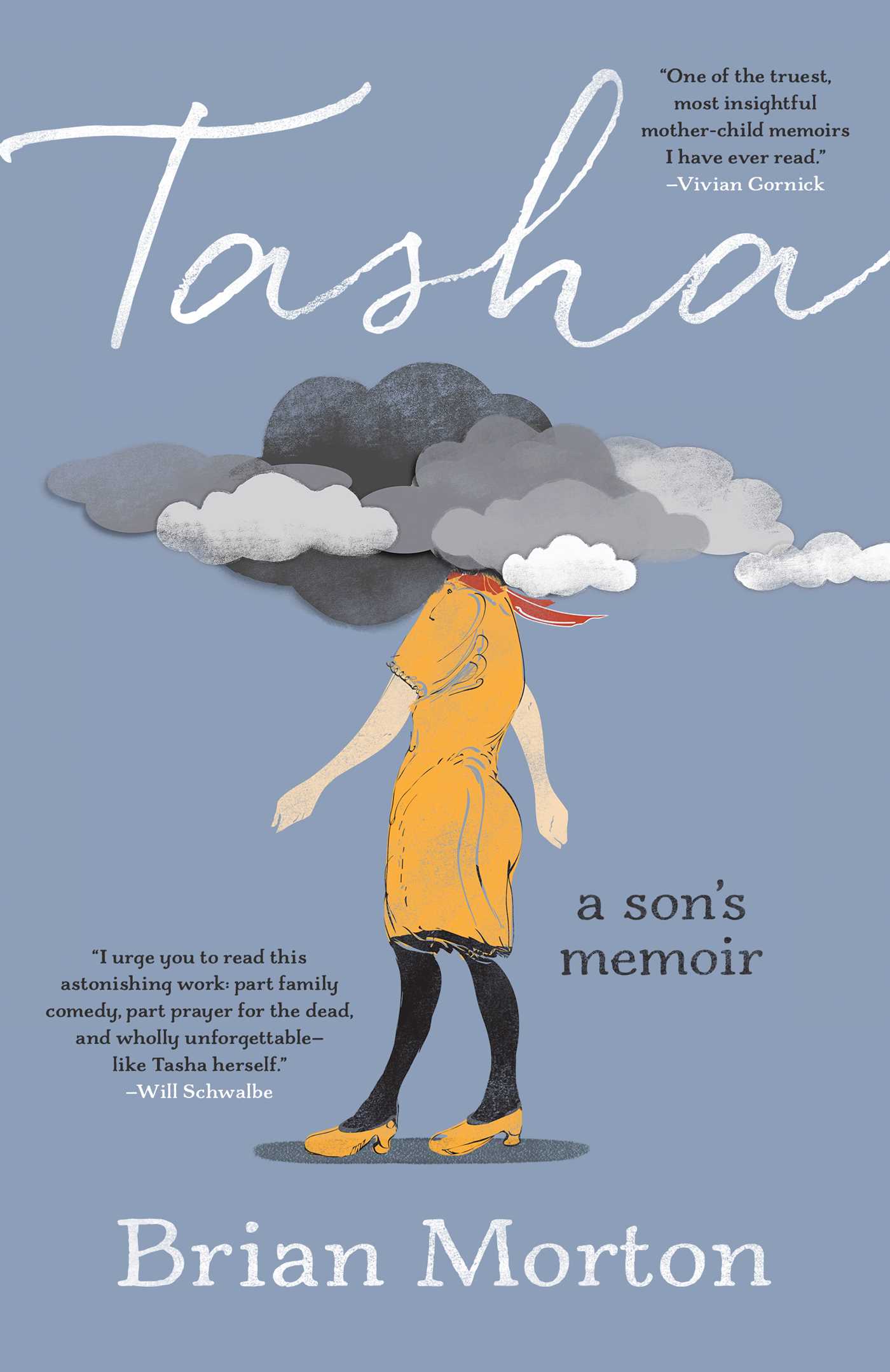 18 July 2022
Tasha: A Son's Memoir
Brian Morton
Morton brings his gently observant novelist's eye to his first nonfiction book, a memoir about his life with his mother, Tasha (a name she gave herself). He doesn't sugarcoat her difficult personality, but does give equal time to the gifts she had as a passionate and innovative teacher. It's a story as much about him as about her, interspersed with his particular blend of warmth and sharpness: "anybody who talks about community is more likely than not full of shit...(they're) the same people who like to use the word 'folks' and drop their g's." He also doesn't shy away from his impatience with her when her dementia and hoarding required the intervention of him and his sister. Tasha was not an easy person to help. Sadly, her friends didn't come through for her at the end of her life, and Morton reflects on his disappointment and whether he should have revealed to them his thoughts: "Life gives us only a limited number of chances to be the people we want to be, and when they were called, they hadn't answered."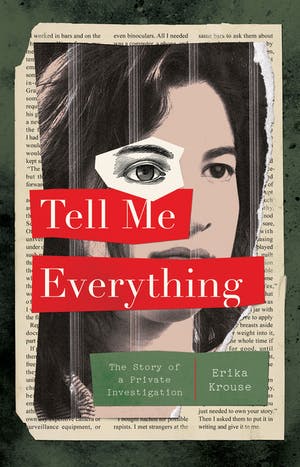 18 July 2022
Tell Me Everything: The Story of a Private Investigation
Erika Krouse
Krouse's story collection,
Come Up and See Me Sometime
, was a critical success (that I enjoyed) in 2001, but we all know that means little in the way of remuneration for an author. After it's published she's still working temp jobs to cover the bills and give herself time to write. A chance encounter with a lawyer in a bookstore, when to his surprise he impulsively confesses his personal feelings about his work and life, results in him asking her to come work for him. It seems she's always been someone that people want to tell their secrets to, and he needs a private investigator for his prosecution of a group of university football players for rape. Krouse is a success at the job, but is haunted by the memory of how a family member sexually assaulted her as a child. It's part of her motivation for wanting to help with the case, but it's also a great weight on her life, on her relationship with her family and with her partner, on her work, and ultimately on this memoir. It can be bleak reading. It's worth it, though, if you can hang in there for her insight into detective work and her breathtaking descriptions of the Colorado landscape.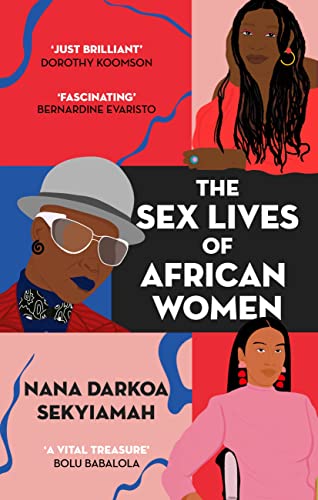 18 July 2022
The Sex Lives of African Women: Self-Discovery, Freedom, and Healing
Nana Darkoa Sekyiamah
This seemed promising, given the under-studied subject matter, but it's so larded with academic woke-speak as to be unreadable. Everyone is centering polyamorous modalities and querying heteronormative spaces. It's fine if the book is only about the small subset of African women who view the world that way, but to write in this style is to erect a wall in front of the reader and signal that instead of honesty and reflection we'll be getting boilerplate press releases from the corporate office. I wonder what gay people living in the parts of African where homosexuality is punishable by death would think of the author's belief that you don't have to actually have a same-sex relationship to call yourself 'queer': "Queerness is a political identity. It's an expansive practice and a way of life that embraces the diversity of humans. And yes, while the sexual choices and relationship we engage in can be an important and deliberate part of how one expresses their queer identity, it's not the sum total." Is every word going to turn to mush?
---
"There was so much to read, for one thing, and so much fine health to be pulled down out of the young breathgiving air...I was rather literary in college—one year I wrote a series of very solemn and obvious editorials for the
Yale News
—and now I was going to bring back all such things into my life and become again that most limited of all specialists, the 'well-rounded man.' This isn't just an epigram—life is much more successfully looked at from a single window, after all."—F. Scott Fitzgerald,
The Great Gatsby
---
Never a spoiler.
Copyright © 1996–2022 So Much to Read
Contact: books at so much to read dot com